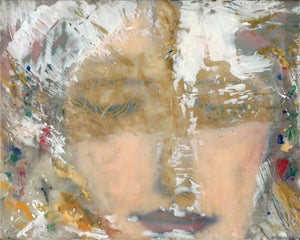 Refiners Gold
Regular price $240.00 Sale
"Refiners Gold" is a pigment print from a watercolor and encaustic painting by Barbara Bowles. The painting explores the idea of refining your thoughts or life experience into gold. Often times a person has to go inward with the intention of self discovery or learning. When challenges come along in life it can feel like walking through a fire. The impurities, fear and judgement, can rise to the surface.
With loving kindness an individual can discover self worth and a refiners gold. A gold that is pure wisdom. Often we can miss the many benefits of internal wealth  when more attention is given to developing material wealth or simply surviving.
Close your eyes so you can see the light inside of thee.  What have you learned through life experience? What gifts or refiners gold can you offer to your friends and family? We all get wounded in the journey but with intention and being present with each other we can transform the experience into something beautiful.  
Printed with pigmented inks on archival, acid free watercolor paper. Gold leaf hand applied throughout image. Signed and titled by Barbara Bowles 
Large size numbered - Limited Edition up to 85
Price includes taxes, packing, insurance and shipping in the USA.